Comparing long-distance movers is easy and straightforward when using Book House Removals. No time is wasted searching the web and we take care of the companies`s vetting part. All cross-country removal experts are fully insured and ready to help you move. Submit your details and get up to six quotations.
You get realistic prices sent to you to compare
Pay up to 30% less for your long-distance move
Get prices for extra moving help
⭐⭐⭐⭐⭐ "Found the best movers " – Zara
⭐⭐⭐⭐⭐ "Easy and quick to use " – Carolyn
⭐⭐⭐⭐⭐ "Really good prices " – Menaz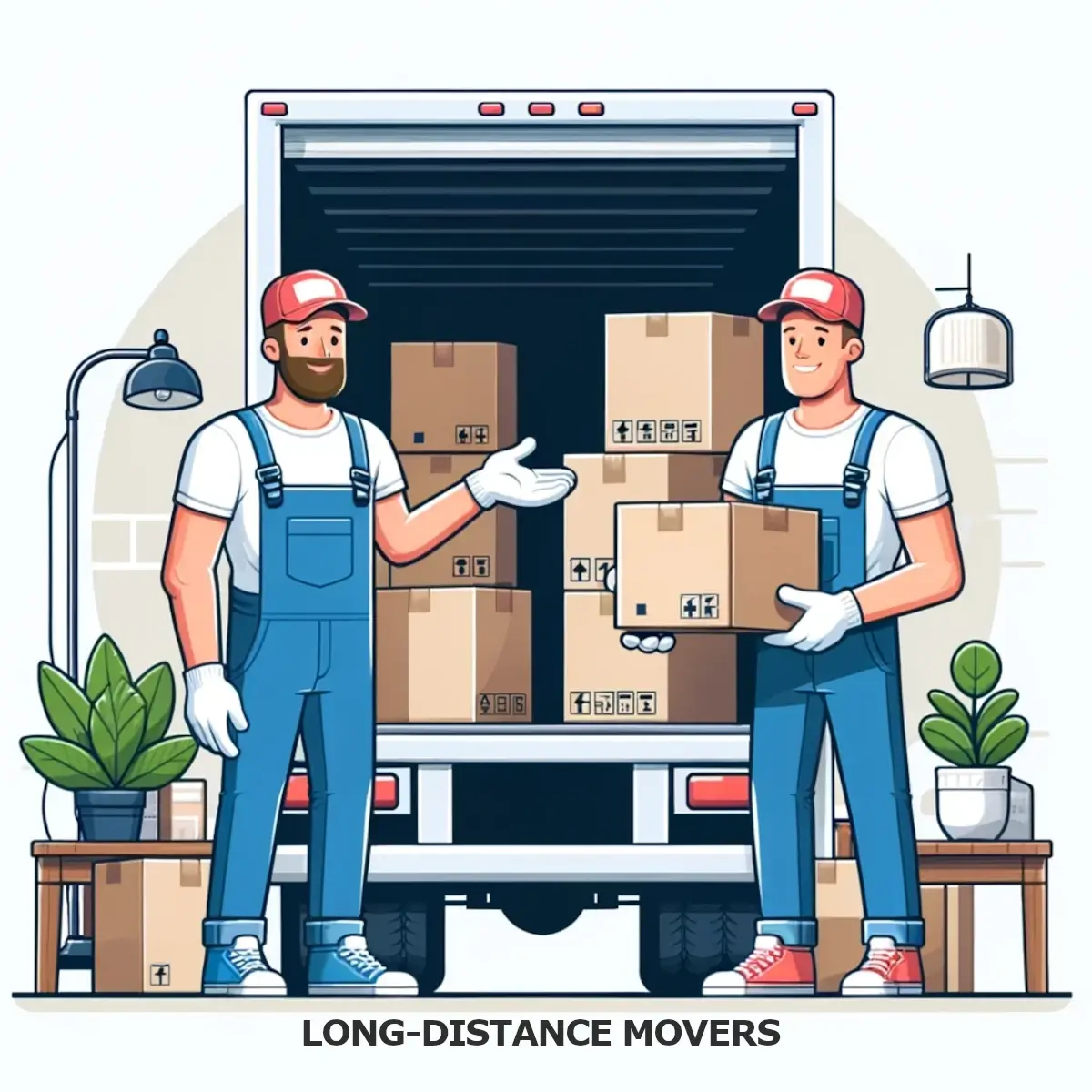 Long Distance Removals Planning Tips
Important steps to take when trying to move cross-country and using professional help.
Get Quotes & Compare
Send us your details. Wait to get all the prices and details. Check every long-distance mover`s reviews and customer service. Choose a company that fits your budget and preferences.
Book The Movers
Request all relevant documents and ask the moving company to give you more details on how to prepare for the move, so it goes smoothly and everything is well planned. Secure the date!
Moving Preparations
If you're not using a packing service, pack your items yourself. Ensure parking for the move, notify your service providers, and arrange childcare or pet care during the relocation.
During The Move
Plan how to get to your new home if you're carless and pack travel food. Ensure you have the moving funds and access to the new property. Consider tipping the movers for satisfactory service.
Long Distance Moving Costs
The average long-distance moving price is £1445. Cross-country relocations can be expensive.
The cost of a long-distance move is £280 for every 100 miles travelled by the standard team of 2 men with a van. This is an average price just for the travel between the pickup and delivery address excluding the loading, unloading and any additional removal services. The long-distance moves are more complicated and typically they have more factors influencing the final long-distance price.
Factors Influencing The Costs
Distance: Long-distance moves cost £140-£220 more per hour. For example, a 2-hour move is at least £280 pricier than a local one.
Size and Weight: More items mean higher costs. Using a Luton van, exceeding 3.5t necessitates a second van, increasing fuel and driver expenses.
Packing Service: Packing 20 boxes costs about £140-£160, including materials. We recommend using a packing and moving service if you have a bigger moving budget.
Dismantling/Reassembling: Prices vary based on the number and complexity of items. Long-distance movers often provide on-site surveys for accurate estimates.
Storage: A 100 sq. ft storage unit costs £70-£100 per week, suitable for 1-2 bedroom homes.
Time of Year: Moving in summer or early autumn costs 15-20% more. Booking 7-8 weeks in advance can lead to significant discounts.
Property Access: Difficult access, like stairs or distant parking, increases costs, varying from minimal to significant based on complexity.
Pitfalls To Avoid With Cross-Country Movers
Hidden Charges
Ask the chosen countrywide movers to confirm all prices before you commit to their services. Ask them what extra charges they might apply in different situations like access delays, more items to move and even traffic delays.
Proof of Insurance
Request for all insurance documents to be sent to you prior to the move. Check for liability limits when moving long-distance and get information on what will happen if there are any damages, issues and delays with the delivery. 
Avoid Booking Last Minute
It will be more expensive. Most reputable long-distance movers will have no availability. You might not have enough time to pack and organize the move properly. It could be very stressful for you and your family.
Long-Distance Movers vs DIY
What are the pros and cons of each method when moving from where you live now?
✔ The movers will bring a large van or a lorry to move everything in one go.
✔ No need to look for blankets and protection, the removal men will do it for you.
✔ Experienced long-distance moving companies will create a plan and find the shortest and quickest way.
✔ You will get insurance cover in case of any damages and delays.
✔ No need to lift heavy furniture, disassemble beds and even pack boxes. On your request, the moving crew will do everything.
✘ It might be more expensive to use help from the pros.
✘ The loading and unloading times might not be very suitable as the moving company will have to follow a strict moving plan.
✔ It can be cheaper as you can you the help of friends, pack the boxes and ask someone you know who has a van to help with the transport.
✔ Flexibility on what, when and how to be done.
✘ You will need to hire a van, provide documents and pay a deposit. You might have issues returning the van if the rental company is not nationwide. If you need a lorry, you most probably do not have the license to drive it.
✘ Whatever you pack and move by yourself will not be insured. If something is broken you will have to pay from your own pocket.
✘ Some items might be very heavy and you can risk your health.
✘ If you can`t fit everything in one go, you will have to do multiple long-distance trips. This can be very exhausting and time-consuming.
Long-Distance Movers FAQs
Get answers to almost everything you don`t understand. Make an informative decision on who to hire.
Q:

When the cross-country movers will load my stuff?

The scale and distance of your move largely determine its process. For moves over 300 miles, most long-distance movers prefer to load one day and deliver the next morning. However, for smaller moves, they can complete it in a single day.

For international moves within nearby countries like France, Germany, or the Netherlands, the timing depends on your preferred delivery schedule. Moves to other continents typically involve shipping containers.
Q:

Will my plants survive a long-distance move?

The survival of your plants during a long-distance move depends on various factors such as the duration of the move, the type of plants, and the conditions they are transported in. Most moving companies do not transport plants because they require specific care and are sensitive to temperature changes and lack of sunlight. If you choose to move them yourself, you'll need to prepare them properly and keep them in a stable, climate-controlled environment. For best results, consider moving them in your own vehicle and research the specific needs of each plant species for the journey.
Q:

Is 100 miles considered a long-distance removals?

A 100-mile move is generally considered a long-distance move by most UK movers. This classification is based on the fact that it exceeds the typical range of a local move, which is usually around 50 miles or less. Long-distance moves often require more planning, resources, and potentially different pricing structures than shorter, local moves.
Get Your Free Quotes
It takes less than a minute. Absolutely free. No commitments.